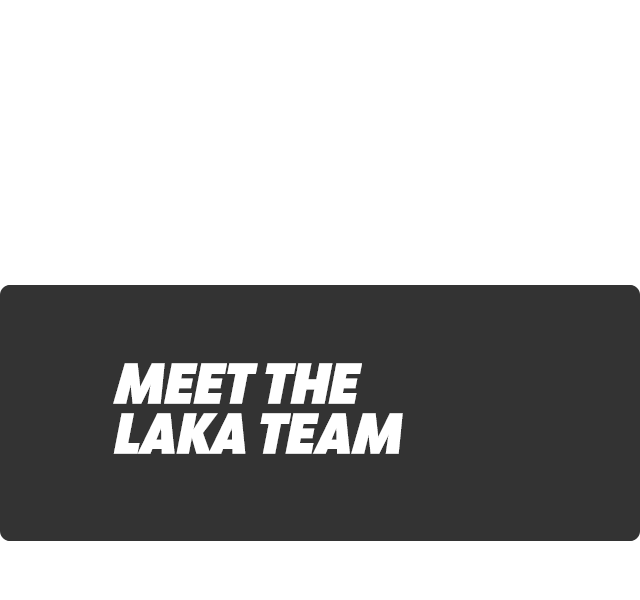 Our Team
With over 23 years helping governments, developers and local councils, LAKA Civil has a highly experienced team of professionals that can complete all aspects of your project from start to finish.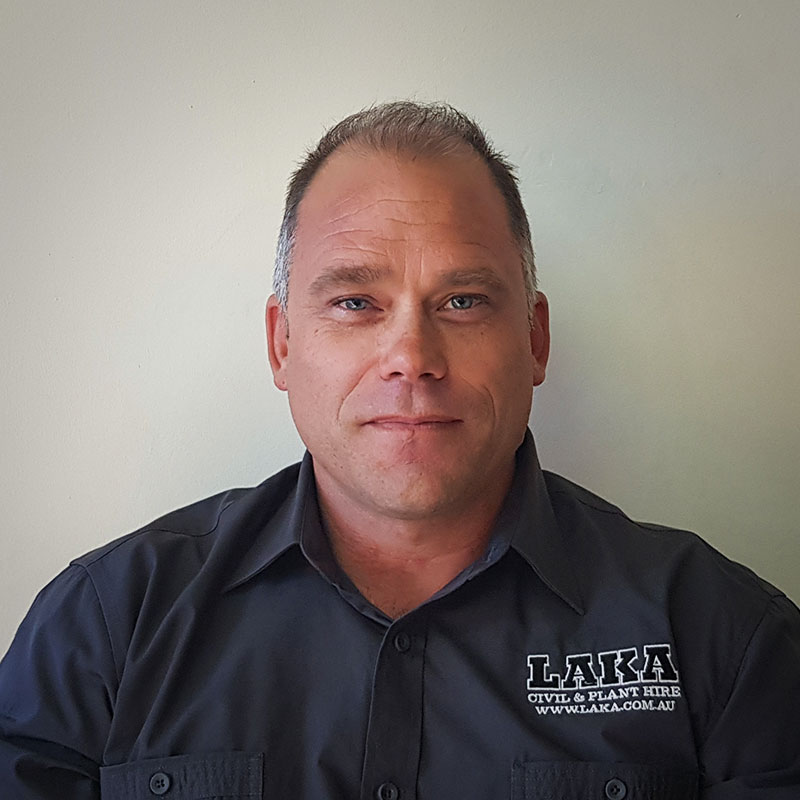 Leith Ahlfors
MANAGING DIRECTOR
Leith Ahlfors commenced the business at the grass roots and is still the integral part of the Company.
As well as developing his civil company which employs between 30 – 50 employees, he is director for the project development aspect of the company's portfolio.
He is normally your first contact and will follow through and be involved on site until completion of your project.
Leith, through the implementation of successful management systems, coupled with key management personnel provides civil earth works, all engineering and survey requirements, quality project management, earth moving machinery with highly experienced operators, and a successful labour component with guaranteed attention to detail to provide quality service on time and within budget.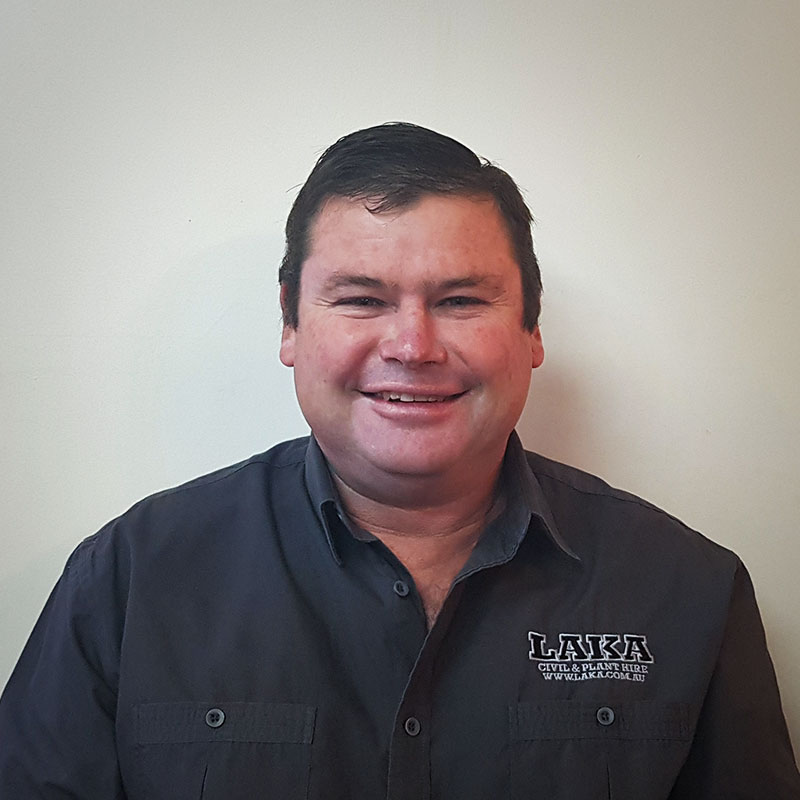 David Luckett
OPERATIONS MANAGER & OHS OFFICER
David's role within the Company reflects Management's dedication to continual improvement and compliance with all codes and regulations at all levels within our industry. David is responsible for the implementation, management and overseeing of OHS and environmental requirements, site safety and audits.
Dave works with management to produce and compile extremely competitive tenders.
In consultation with management he is responsible in allocating plant and equipment, labour and best practices on our sites.
He is responsible to ensure all employees receive appropriate training to perform competently and safely.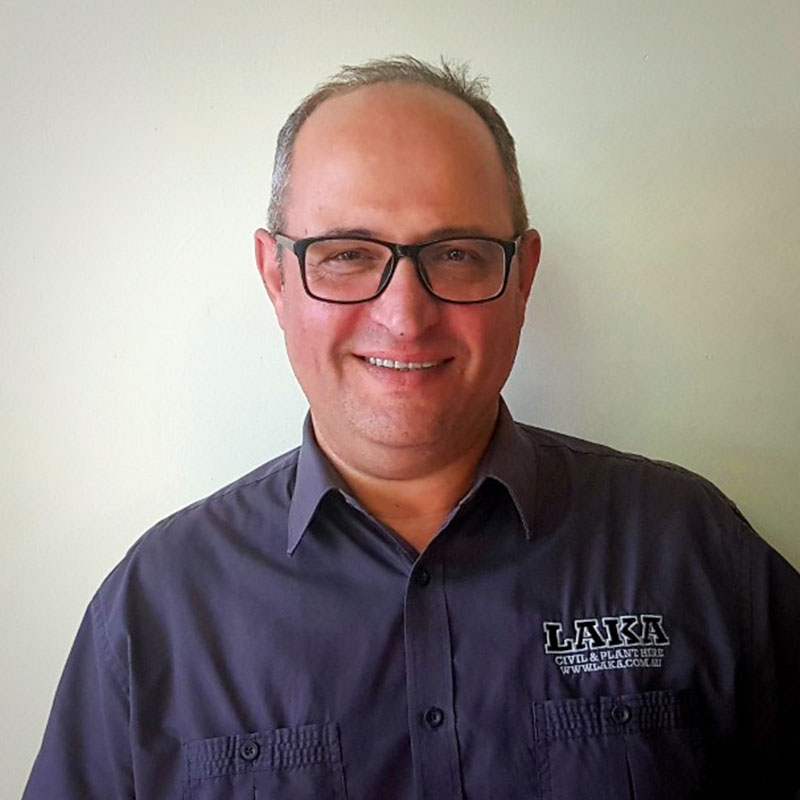 Harison Bahri
CIVIL ENGINEER & PROJECT MANAGER
Harison commenced with LAKA in 2016 in the capacity of Civil Engineer and Project Manager. Harison obtained his Civil Engineering Degree in Iran and worked as Project Engineer on various road and bridge constructions in Iran and apartment buildings for Aerospace in Tehran.
After moving to Australia, Harison gained accreditation to work as a Civil Engineer in Australia, working for Lelio Bibbo Consulting Engineers and other civil construction companies within South Australia.
He is a dedicated member of staff and posesses good work ethics. He is thorough and applies himself diligently to his assigned projects to obtain the highest quality.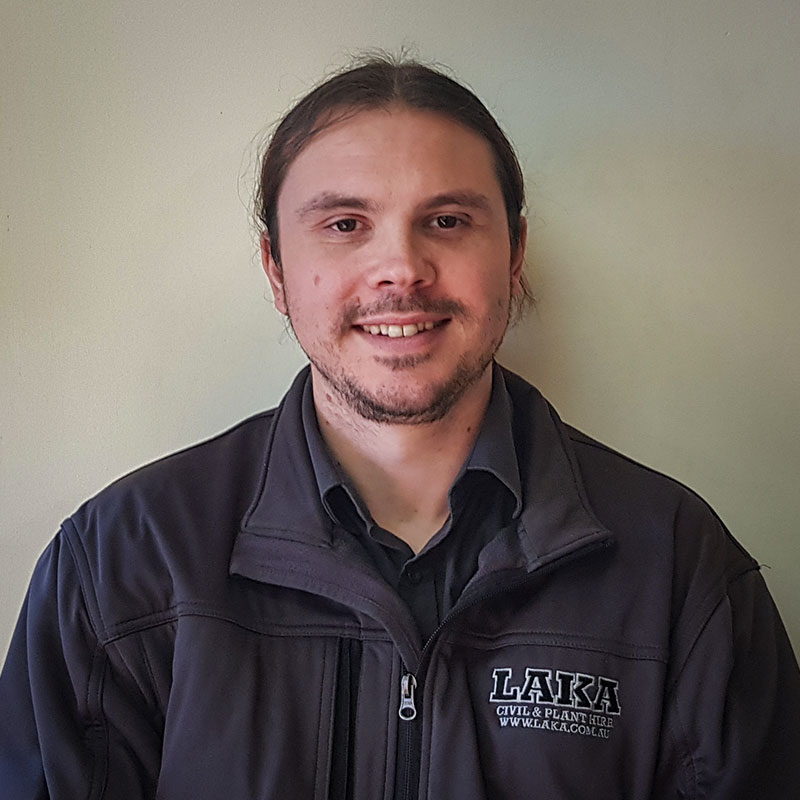 Matthew Dunk
ESTIMATOR
Matthew is a valuable member of the team and is responsible for tender planning and quantity takeoffs. He works in conjunction with the Operations Manager and Director throughout the tendering process. He is proficient with Quest software and CAD programmes.
He has completed IT courses and is heavily involved with the Company's IT requirements, future IT planning and maintaining day to day IT issues.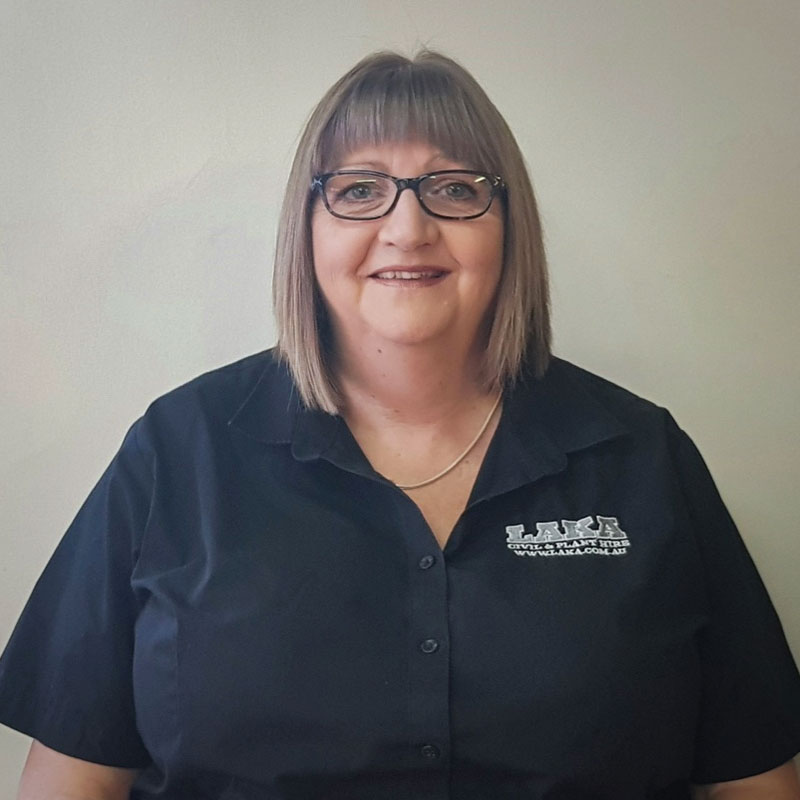 Debra Smith
FINANCE ADMIN MANAGER
Debra has over 30 years' experience in administration/account management.
Debra is a member of the senior management team for the implementation and review of all company policies and procedures in regards to accounting and financial records.
Debra ensures all company polices & procedures are being carried out in regards to administration.
She is responsible for the preparation of Progress payments for approval and all Contracts administration.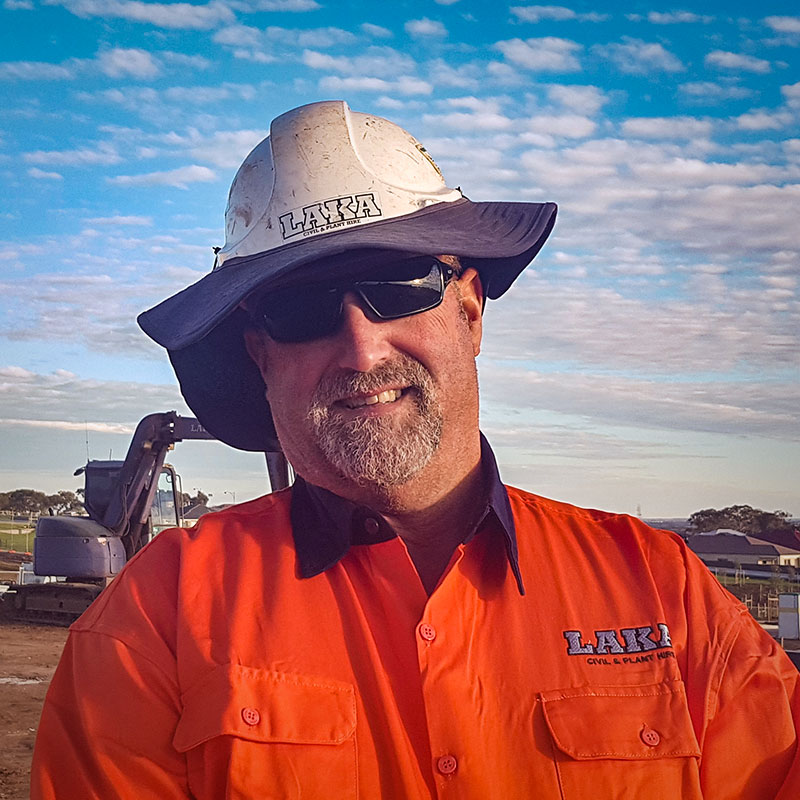 Peter Overton
SITE SUPERVISOR
Peter has over 30 years of experience in civil construction. He has worked for various Civil Construction Companies in roles including Foreman, Leading Hand, Site Supervisor and Project Manager.
These positions have given him a comprehensive understanding of the civil construction industry and provided him with the skills and knowledge required for his role within LAKA.
Peter decided to step away from Project Management and return to the role that he is most passionate about, supervision of onsite activities.
His previous work as a Site Supervisor has provided him with a wealth of experience supervising countless projects across South Australia including residential and commercial sub-divisions, service relocation/replacement, road construction, major pipeline construction, storm-water infrastructure and many others.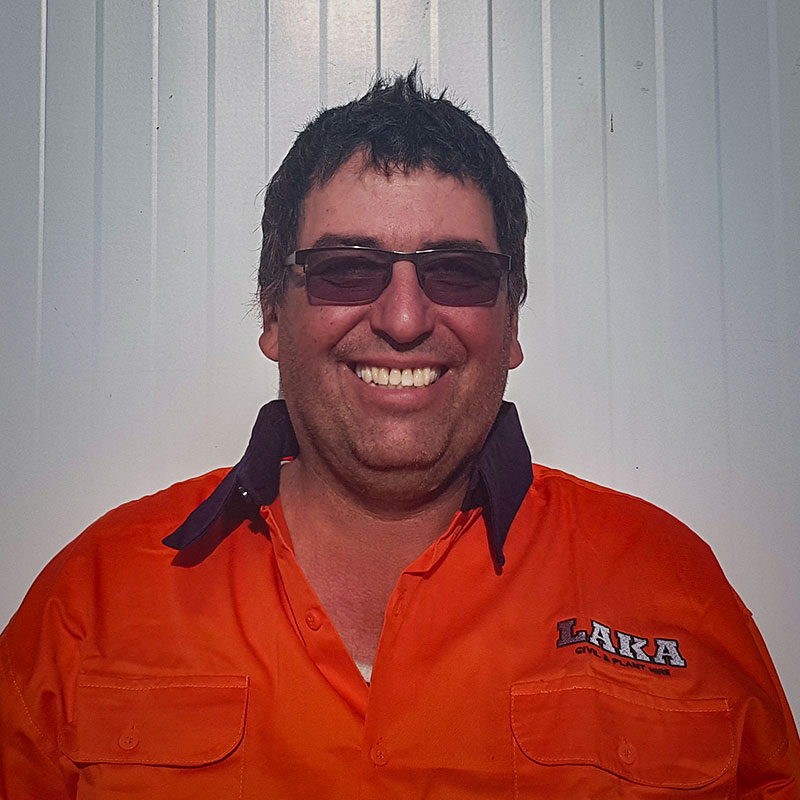 Roger Trudgeon
SITE SUPERVISOR
Roger has worked in the civil industry for many years and has proved himself to be passionate and fully involved with his projects and the teams who work on his sites.
He strives to obtain the best outcome for the client ensuring best practices are utilised and the most efficient method of performing the tasks at hand.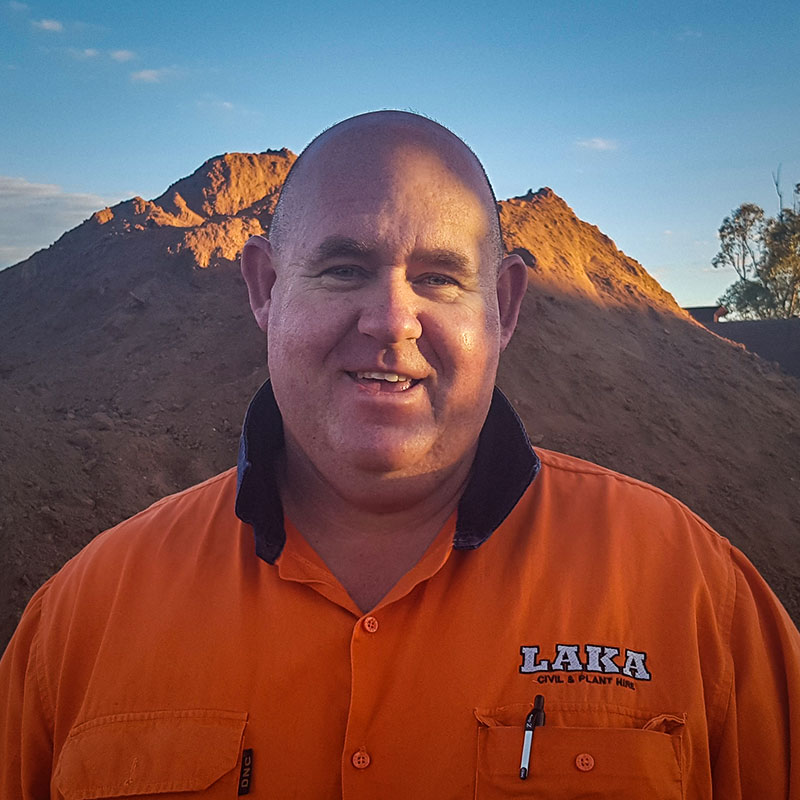 Jamie Heslop
SITE SUPERVISOR
Jamie is a dedicated, well organised and reliable person. Jamie's role within the Company is Supervisor who has considerable experience in the installation of SA Water mains.
He was in charge of a team working day and night shifts on the T2T project installing water relays along the north south corridor.
He has been involved in the civil construction indutry for over 10 years and has installed SA Water relays throughout the Barossa, Riverland and Adelaide Hills areas. He keeps up to date with SA Water procedures and protocol.
He is an active member of the Country Fire Service and has gained invaluable experience in responding and managing emergency incidents.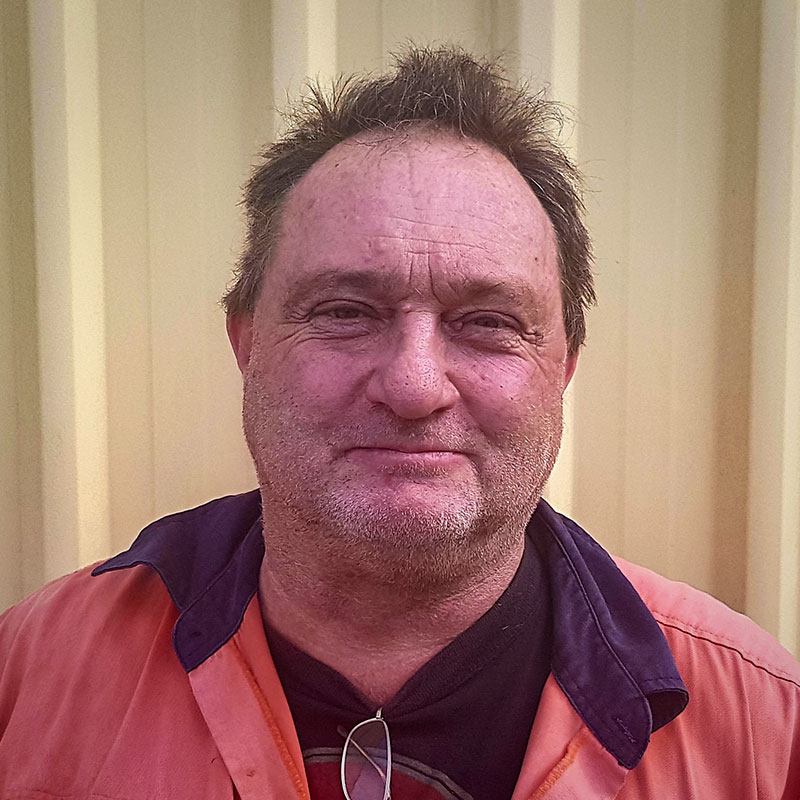 Paul Helbig
SITE SUPERVISOR
Paul commenced his civil construction career in 1997.
He has welding and hydraulic engineering qualifications but worked in the mining sector for a number of years operating 40-200T excavators, 90T loaders and 90T dump trucks.
He was involved in plant operator training and maintenance of plant & machinery including crushers.
He joined LAKA as a leading hand and his competency and operator skills soon saw him managing plant and operators on site.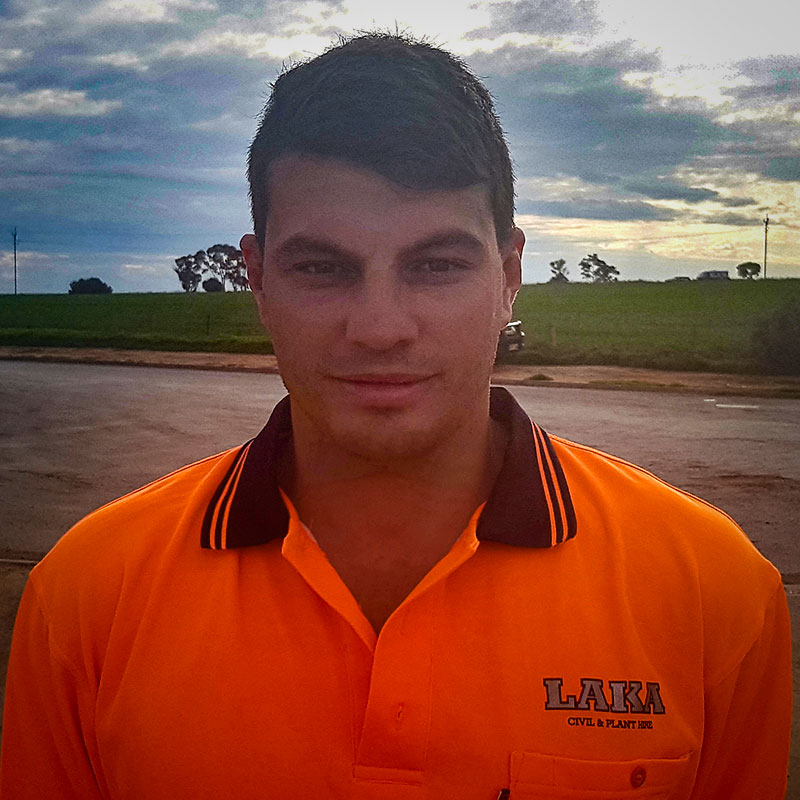 Peter Persinos
SURVEYOR
Peter has Certificates III & IV in Survey & Spatial Information and a Diploma in Surveying and Spatial Information.
He worked in the Civil Construction Industry with Engineers and Civil Construction Companies gaining valuable surveying skills and knowledge on construction sites whilst continuing his studies prior to joining LAKA.
He is proficient with CAD Programs and has experience with Trimble, Leica, Topcon Total Stations and GPS units.
He is invaluable on the work sites checking project progress and accuracies with all machine data and as constructed plans.
Chris Drew
HEAVY DIESEL MECHANIC
Chris is a qualified diesel mechanic and has recently joined us from a plant hire company where he worked maintaining all their civil construction equipment and keeping them ready for use.
His responsibilities include all diagnostics, servicing, repairs and maintenance for our fleet of plant and equipment as well as parts ordering and maintaining critical inventory.
His duties include maintaining a safe and clean work environment and planning daily, weekly and monthly service & maintenance schedules for our mobile fleet. He conducts on site fault finding on machinery, maintenance checks and repairs as required.
Chris is also responsible for the training of our apprentice mechanics.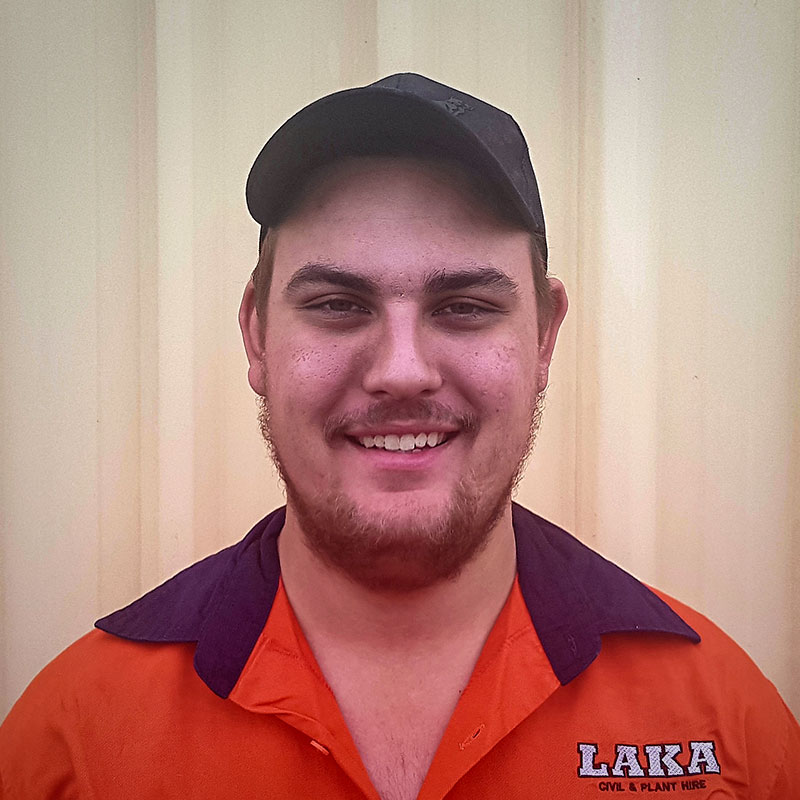 Joshua Trudgeon
APPRENTICE DIESEL MECHANIC
LAKA run successful Apprenticeship programmes and are committed to employing further personnel to commence their training and gain certification with us.
Joshua has commenced a Diesel Mechanic Apprenticeship with LAKA this year.